You can use the GeekSeller interface to adjust the 2-day Shipping Program settings on the individual SKU level. To adjust the settings on the global level, visit your Walmart Seller Center.
---
From the Walmart Seller Center
---
Log in and go to Settings > Shipping.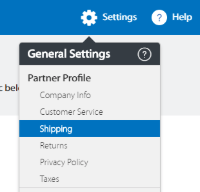 ---
Go to the FREE 2-DAY tab. There are two options to pick from:

Walmart will adjust your default settings based on your setup:
I would like to include my entire item inventory in this program 

2-day shipping will be available for all of your products. You can use shipping overrides to exclude some of the items from the program or modify supported regions (if different than global 2-day shipping settings adjusted in the Walmart Seller Center). Please see examples at the bottom of the page.

I prefer to choose which of my items will be included in this program

Each item you wish to offer must be exported with the 2-day shipping override. The feed must indicate which regions are supported for each product. Global settings in the Walmart Seller Center will be ignored if you decide to offer 2-day shipping for selected products only.
With the GeekSeller settings described below, you can override these options and manually pick states eligible for 2-day shipping for specific SKUs.
---
From the GeekSeller Walmart panel
---
Log in and click on the product you want to edit. Under the Shipping Overrides tab, select Yes for Shipping Override Active and pick the states you want to include in the 2-day shipping program.
IMPORTANT: Leaving all regions/states blank, while keeping the override active, will exclude the item from all regions/states.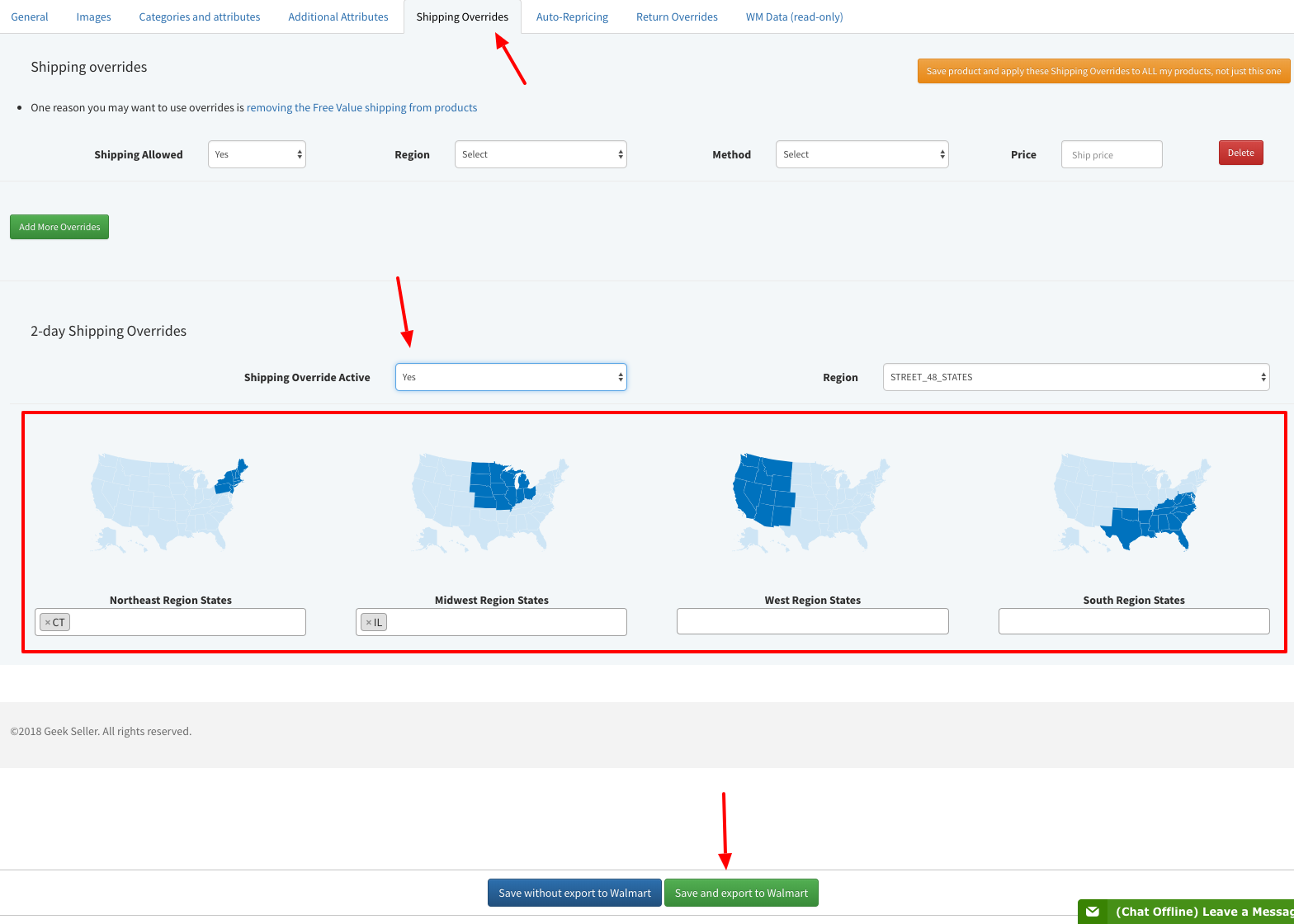 ---
You can also make updates using a CSV/XLS file
Use this template:

Acceptable headers:
SKU – required, to identify a product
twoDayShippingOverride – possible values Yes and No
twoDayShippingRegion – you can ignore this column, for now, the only possible and default value here currently is STREET_48_STATES
twoDayShippingNortheastRegionStates
twoDayShippingMidwestRegionStates
twoDayShippingWestRegionStates
twoDayShippingSouthRegionStates
Possible values for regions:

---
How to use:
If you selected the "I would like to include my entire item inventory in this program" option in the Walmart Seller Center and you want to exclude or include some regions for selected products, go to "Shipping Overrides" and select all SUPPORTED regions only.
Example:
Your global 2-day shipping settings indicate that all products are shipped to Northeast, Midwest and Western states, then:
To exclude the Northeast region for a selected product, leave the "Northeast Region State" field empty, select all supported states from "Midwest Region States" and "West Region States" and export to Walmart.
To include additional states/regions for a selected product, fill out "Northeast Region States", "Midwest Region States" and "West Region States" with all supported states. Additionally, add all the supported states from "South Region States" field to the list and export to Walmart.
To exclude a certain product from the 2-day shipping program completely while the rest of your catalog offers 2-day shipping, leave all regions fields empty and export to Walmart