This article explains how to create exceptions to your global shipping settings. Please see this page for details about shipping standards on Walmart.
---
STEP ONE
Creating the override in GeekSeller directly
Login to Walmart.GeekSeller.com and edit the product on which you want to set the shipping override. Click the "Shipping overrides" tab
In the example below, free value shipping has been disallowed. Please note the green button at the bottom that allows you to add more overrides and the orange button that allows you to apply this setting to all of your products.

---
STEP TWO  
Creating the override using a file
If you want to assign this shipping exception to multiple products, but not all of them,  you can do this by selecting these products and exporting them to a file. Just be sure to include a product on which you've already set the desired override.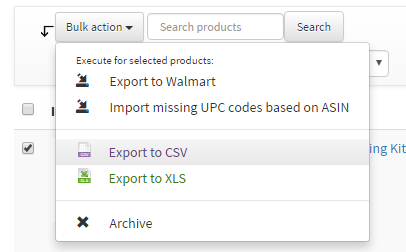 Delete all the columns except SKU and shippingOverrides:

The file will look like this when it is ready to import. Save it and go to Tools > Import/Export. It is also recommended to use Tools > Backup to save your current catalog before doing any major uploads.

---
STEP THREE
Exporting the updated products to Walmart
Next, you'll need to export this data to Walmart by going to Bulk Action > Export to Walmart

Go to the Feed Status page and find the feed, it will be called Item Create/Update. Be sure to note the date. It may take up to a few hours for a new feed to appear. After the processing is done and some errors are reported you can see details on a See Details page.

Unfortunately, errors are frequently reported. Please see this page for more details on Walmart errors.