You can remove Walmart free shipping value from your products via GeekSeller panel:
1. Log in to your GeekSeller Walmart account and click on any product you want to update
2. Scroll down to the bottom of the product page and click Shipping Overrides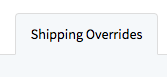 3. Select the following options:
– Shipping Allowed: No
– Region: STREET_48_STATES
– FREE VALUE

4. Click "Save and Export to Walmart"

 5. Go to the Export Statuses section to make sure the update goes through. When processed without errors, you should see the new price without free shipping on Walmart.com right away.

---
If you want to remove the free shipping in bulk:
1. Click "Assign this to all my products." Be patient, it will take time for the script to update data for all your products.

2. Shipping exception data is linked with product data, so after our script is done assigning the new value to all products, you'll need to submit all your products to Walmart.
In order to bring Free Value shipping back, do not select YES for Free Value shipping option, but just remove it from the Shipping Overwrites.
Click here if you want to learn how to make the update via Seller Center
---
IMPORTANT! You must have at least one shipping method available at all times. Before you remove the Value Shipping, make sure to have at least one alternative shipping method in your Walmart Seller Center. Otherwise, the action of removal of the Value Shipping will fail.