To import products from your eBay account to GeekSeller follow the steps below. If you have not connected the account yet please check this guide.
---
1. You can switch to the eBay panel through the drop-down in the upper left corner of any GeekSeller panel.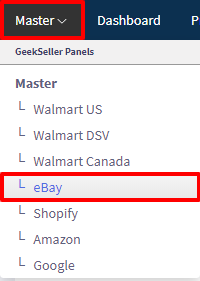 ---
2. If you just added the account you can run the import by clicking this button. If you added more than one eBay account please make sure to select the correct one from the dropdown.

If you already have products listed on GeekSeller eBay you can access the import through Products > Import products from eBay.com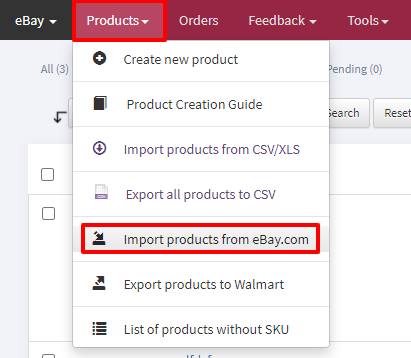 ---
2. You can choose to import and overwrite all of your listings or import only recently added products. On this page, you can also track the progress of the import.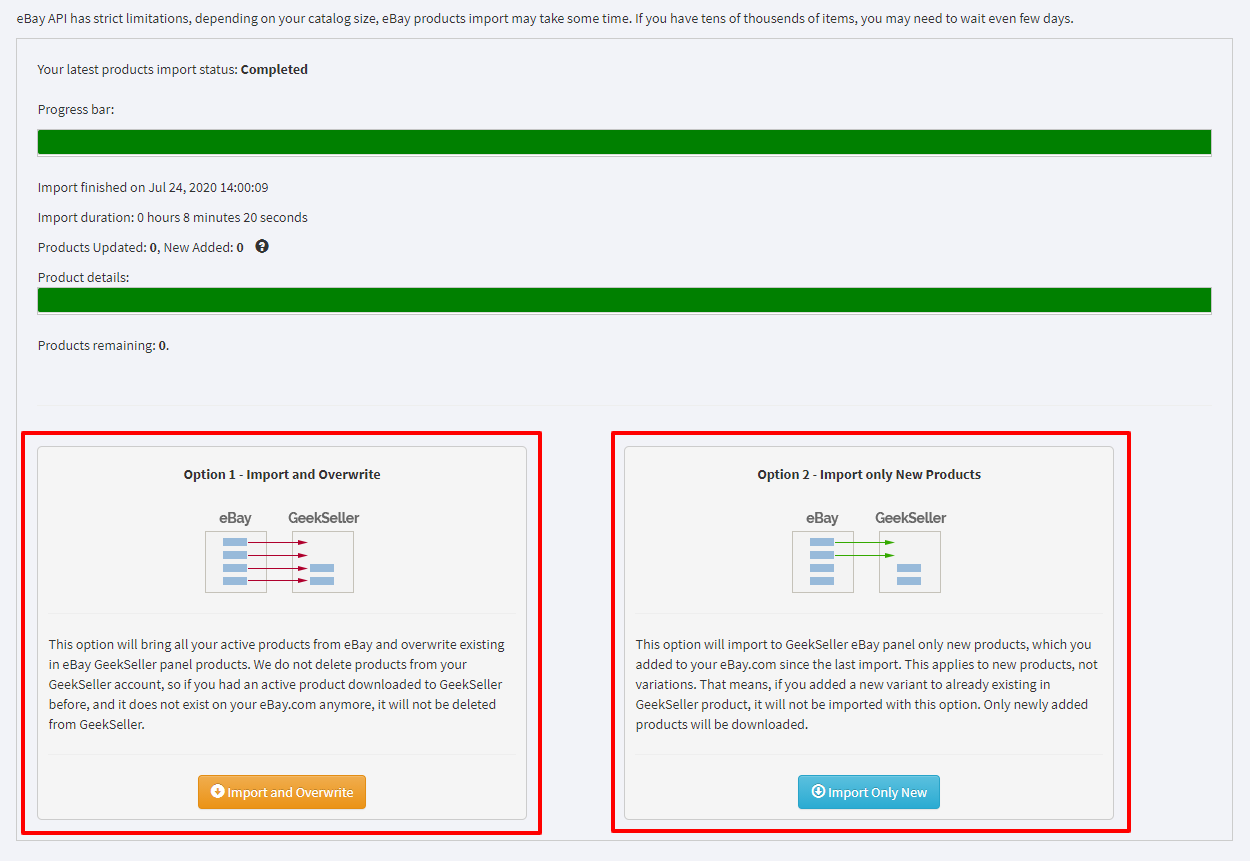 ---
4. eBay does not require SKUs so your products may be missing this value. Please keep in mind that all of your products must have SKUs if you would like to transfer your product data to other marketplaces or manage your eBay quantities and orders through GeekSeller. You can add SKUs to your products via Tools > Bulk SKU Update > Export products without SKU to CSV, then after you will add it you can upload the file on the same page.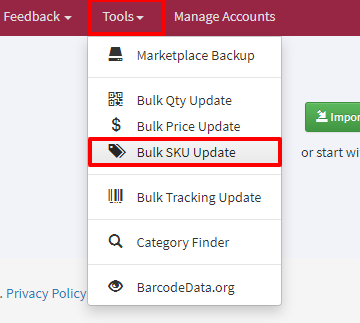 ---
5. eBay also allows duplicates of products. If our system will detect duplicates you will see a notification like this on your GeekSeller eBay panel:

We advise to change the SKUs of duplicates or remove them completely before transfer of product data or setting up any synchronization to avoid issues. Please keep in mind that products can be deleted only on eBay directly.
---
6. You can transfer your products to other marketplaces via upload of the CSV file. You can also send them to Walmart immediately by using this option on Products tab: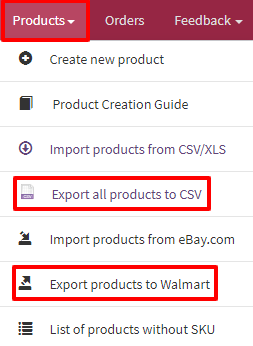 If you will choose to export your products to Walmart automatically, you will be asked to map categories and attributes.
Categories mapping – Simply select the most appropriate category from the drop-down. You can type in the keywords to find it quicker.


Mapping attributes – a list of available attributes are determined by what categories were selected in the previous step.

There is no need to map all the categories and attributes to move to the next step. We highly recommend mapping as much as you can. However, some users may have hundreds of attributes to map, in those cases we recommend to:
Map only attributes that are different within the group of a product, so if you have T-Shirts that vary by size and color, you can only map size and color attributes.

All categories should be always mapped.
---
Important! Please note, that if you move products automatically from GeekSeller eBay panel to Walmart, we do NOT overwrite data, but only add new products. Also, keep in mind, that we transfer to Walmart only those products which have SKUs and are not duplicates.