Welcome to GeekSeller! 
Click here to log in to your GeekSeller Jet panel. Your username and password can be found in your welcome email. Contact us at Support@GeekSeller.com if you have any trouble logging in.
---
Keep your data backed up. We perform regular data backups and do everything we can to prevent data loss, but due to the complexity of some integrations and the uniqueness of each seller's set up, there is always a chance that data may be lost or overwritten.
When should you back up your data?
Before you get started with us
Each time you make major adjustments to your set up
Before you add new functionalities
Before you import or add new data
Read more about how to back up your data here.
---
Changing Your API Provider to GeekSeller?
If you're switching from another integration tool, there is no need for you to read this entire post.
All you need to do invite us to your Jet portal then contact Jet to let them know you're switching.
---
---
STEP 1:

Complete Jet

Portal information

Before we can integrate with your Jet account, you'll need to log in to Partner.Jet.com and fill out the following sections: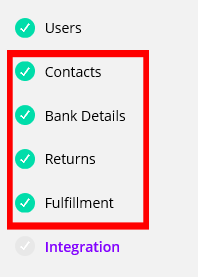 Contacts
Bank Details
Returns
Fulfillment
If you experience difficulties logging in, please try using Chrome and opening an incognito window.

---
STEP 2:

Inviting us to your Jet Portal
Click here for instructions on how to invite us to your Jet portal using the unique email address provided in your welcome email.
We will complete the integration by entering your API keys in GeekSeller Jet panel.
Once our team is done, your Jet Partner Portal will display the image below, and you'll be ready for the next step.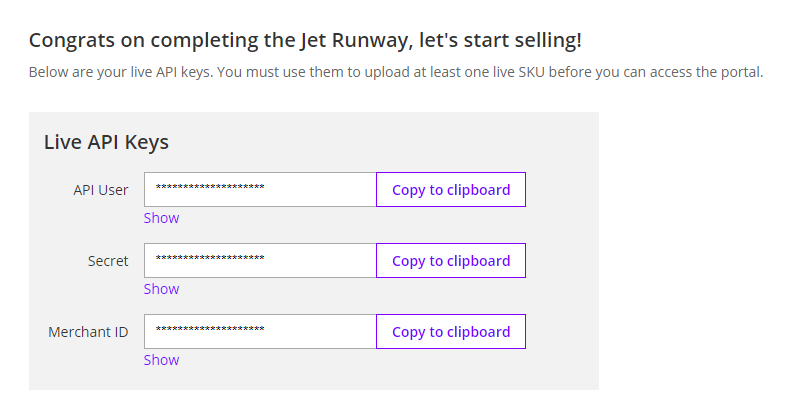 ---
STEP 3:

Adding products to GeekSeller
You can add products to GeekSeller in any of the following ways:
No matter which method you choose, you'll need to make sure that your products are completely ready to be submitted before you move on from this step. Click here for details on Jet's requirements.
---
STEP 4:

Syncing your inventory
If you would like to sync your inventory with the following platforms, email us at support@geekseller.com.
You can also manage quantities through our interface or via CSV file import, see details here.
---
STEP 5:

Product Submission
When you are ready to send products to Jet you can either.
Contact us to submit your products to Jet in bulk. This option is recommended if you have over 1000 products.
---
STEP 6:

 

Jet Review 
After your products have been submitted to Jet their status will go from Draft to Pending to Under Review. Click here for more information on Jet statuses.
Jet's review process generally takes 2 – 4 weeks. Before you submit them it's important to make sure that your products are complete. See here for detailed information on the review process.
---
STEP 7:

Learn more about Jet and optimize your listing
Use our support pages to learn more about the Jet marketplace. Jet is very different from other channels, you need to spend some time to understand how it works and how to optimize your offerings to be successful on Jet. Here are a few articles to start with: