Here are the specific set of rules Sellers need to adhere to meet the Jet Performance standards. 
Sellers should maintain an Order Defect Rate (ODR) of 2% or lower to meet the minimum Seller Performance Standards. The ODR is the number of orders with any defect divided by your total number of Purchase Orders. 

Sellers will also be monitored regarding the following factors: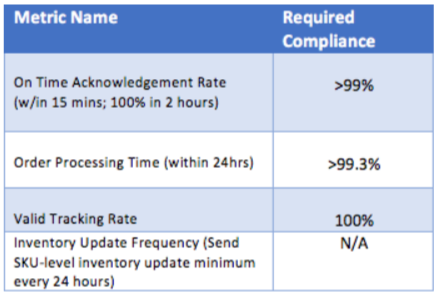 On Time Acknowledgement Rate: >99%
Jet expects Retail Partners to acknowledge all orders within 15 minutes or less. If an order is not acknowledged within 2 hours, the order is void and made available to other Retail Partners.

Order Processing Time: >99.3% within 24 hours
Jet expects Retail Partners to fulfill orders (pick, pack, and ship) on the same day or within one business day. Jet reserves the right to cancel orders which are not shipped within a specified timeframe. 
Valid Tracking Rate: 100%
Jet expects all Retail Partners to work with reliable logistics providers that are able to provide accurate carrier information and a valid package tracking number at the time of shipment. For a tracking number to be valid, it must be recognized on the carrier website at the time of shipment and provide accurate information during transit.
How ODR is calculated:

ODR is determined by four different factors, which you can find in the Jet Partner Portal, on the dashboard just below the ODR widget: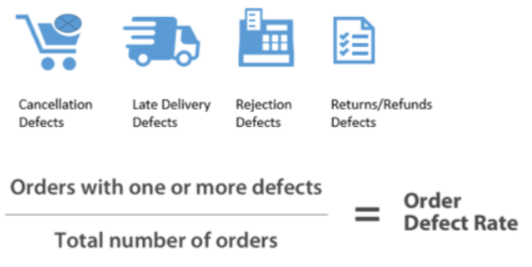 Important to know:
The ODR can be calculated over any historical order period but will be presented in Partner Portal for a 14-day and 90-day period.

Sellers with 50 or greater transactions over the past 120 days are evaluated based on the past three months.

Sellers with fewer than 50 transactions and more than 120 days on the platform are evaluated based on the past 12-month period.

For new sellers who recently completed onboarding and have less than 50 transactions in the past 120 days, ODR will be displayed but sellers will not face potential suspension until they have been live for 120 days on the platform.
For more information on the new Jet Seller Performance Standards, please visit this article.

You can can also review the webinar Jet presented on February 1st, 2018 here.