If you'd like your online store to be available in Google Express Stores list, you will need to complete several tasks to finish Shopping Actions set up.
Step 1: Log in to Google Merchant Center
Once you are logged in to Merchant Center, select Shopping Actions from the left menu.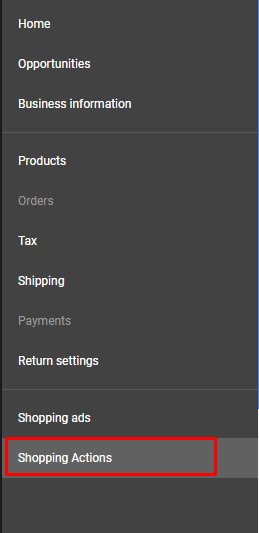 ---
Step 2: Shopping Actions Set up
This process consist of several steps. Below you can find detailed explanation on each of those steps:
Products: when you create new product feed, you need to indicate that you would like to use products from this feed to be visible in your Shopping Actions.

Branding: Out of 3 available branding assets only one is required. Although the other two are optional, Google highly recommends to use all 3 assets which may help customers to recognize your brand from others. Available branding assets are:

Round logo for Shopping Actions (required)
Favicon (optional)
Banners for Shopping Actions (optional)

Round logo and favicon must meet following image requirements:

Solid circular logo and favicon with no additional text
Transparent background outside of the circle
High resolution
No background photo
No outline or edge detail on circle

And format requirements (logo only):

Logo size: 5 MB (maximum)
File types: PNG, SVG
Dimensions: 768 x 768

You can take a look at round logos of other stores directly on Google Express Stores list. If you're having troubles with your round logo, let us know and we may be able to help you.

Tax: You should set this up pretty much at the very beginning of setting up your Google Merchant Center. You can set tax options for each state separately.
Shipping: You can set up multiple shipping options, each for different scenario. Available settings are the same as for other marketplaces.
Return settings: Set up your default return policy and return address.
Payments: Here you can set up your payment details for receiving payments and invoicing. Once you set it up, final verification may take up to 3 days and you won't be paid for orders until all steps are complete.
User roles: User roles and permissions are set up when you add new accounts, however, you can always adjust or restrict the rights for such accounts later on.
Customer service contact: This email address will be used by Google's customer support if any case or issue occur. THIS IS NOT AN EMAIL FOR YOUR CUSTOMERS TO CONTACT YOU.
Marketing settings: This setting allows you to include the option for customers to subscribe to marketing emails at checkout. If you decide to show this checkbox, then you can decide if it should be checked by default or empty by default.
Privacy policy URL: Provide URL to your privacy policy, so Google will check if policy meets requirement for sharing user email addresses.
When everything on this page is set up, you will be able to click CONFIRM.
---
Step 3: Terms of service
It is not a wall of text like policies on other marketplaces, so we highly recommend to take some time to familiarize yourself with this those terms. If you agree to all of them, you can click on the checkbox at the bottom of the document, then click SAVE to the right and finally CONTINUE TO REVIEW.
---
Step 4: Review
Before you activate your Shopping Actions, Google will ask you to review everything you managed to set up in the first step. Here you also have a chance to take a look at your storefront. Make sure your products are all showing up and your logos display properly. It is recommended to add several items to cart to make sure tax and shipping amounts are accurate. Once you are sure everything works fine, click on REQUEST FINAL VALIDATION.
Step 5: Activate
Several days after requesting final validation, you should receive an email from Google letting you know that your store is ready to be published. Log in again to Google Merchant Center, click on Shopping Actions and you will find there PUBLISH STOREFRONT button. Before you click it make sure you don't want to make any changes to your store. Google also advises to publish your store Monday through Thursday during normal business hours, avoid sending any order-related emails to your customers for transactions made through Google and to make sure your team is trained to recognize Google Express packages.
Now your store is live on Google Express!