Cost: There is no setup fee unless some very custom development needed.

---
Integration Steps

The seller requests this solution and lists what data will be exchanged (qty, price, orders)
GeekSeller gives the seller SFTP or FTP access (it is also possible for a seller to provide their own SFTP/FTP that will be used for data exchange)
The seller inserts test files onto the server and notifies GeekSeller support
The GeekSeller tech team checks the test files and performs checks
GeekSeller activates the extension

---
Technical Specification

FTP address that you will connect to is ftp.geekseller.com, username and password will be provided to a seller when the integration is requested.
You will receive access to our FTP with a structure of folders as shown below (this can be customized if needed):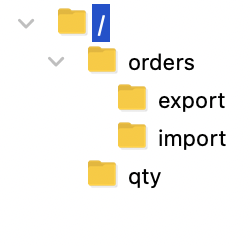 File format requirement: all files should be UTF-8 encoded, CSV, comma-separated. GeekSeller can generate files with other extensions (such as .txt) when necessary.
---
../orders/import/

GeekSeller will upload files to this folder with new order information. Each uploaded file will have a unique name. The seller can use this file to load orders to their system. GeekSeller can customize the structure of this file to the seller's specific needs.
We submit all open orders to the FTP every few hours, so you may see duplicates. We do this just in case for some reason either your system deletes a file and fails to fetch data, or our system fails to create a file (there are many reasons this may occur, such as our server is down for few minutes or we do restart a server etc.). But as long as your system identifies orders by Order Number, it should ignore the duplicates.

---
../orders/export/

This folder will be used by the seller's system to upload a file with tracking information for orders that have shipped. We expect sellers to upload either a CSV or TXT file here. You can download a sample file here, and see the preview below. If needed, we can adjust our script to read your file with a different structure than shown below. As you can see a file should contain at least those four columns: Order, Carrier, Service, Tracking.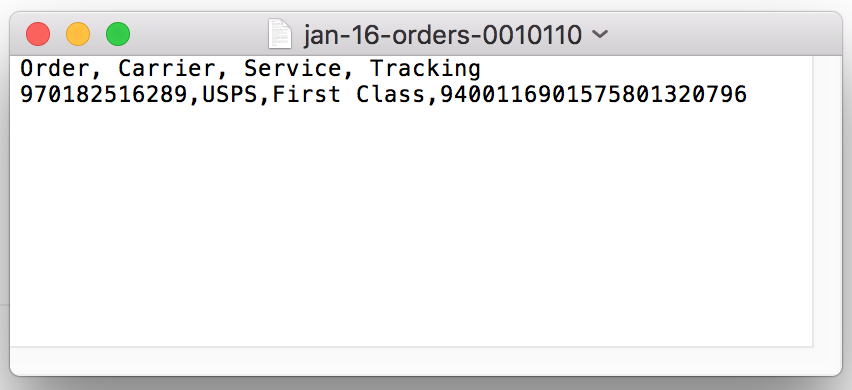 If an order has multiple line items you have two ways to send a tracking number:
You can either provide an order number, tracking, carrier, and service columns only, as shown above,
or you can also add SKU and Qty columns to different tracking numbers for each line item. Remember that providing a tracking number for just one line item, and ignoring other line items will cause an order to be fulfilled partially.
.
---
../qty/

We expect the seller's system to upload to a CSV or txt file with inventory information. You should upload here only those products which qty changed within the last 24 hours. This file should have only the following columns: SKU and columns representing your nodes with the following names: "node_name Node" – you can find you node names in GeekSeller Master Panel. The fastest way to get your template is to login to GeekSeller and download it from Tools > Bulk Qty Update.
One important requirement is that your system needs to upload to this folder always a file with the same name, and replace the old one if it is there.
Example of this file is shown below, you can also download it from here.
With nodes like this: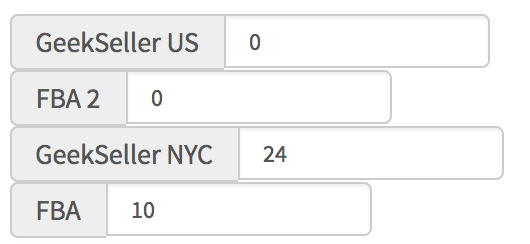 A file should look like this (please note you do not need to insert all the nodes to a file, you insert there only those that you want to update):