To enable quantity synchronization for your products, you'll need to activate BigCommerce Inventory Tracking in your BigCommerce account.
---
To Update a Single Product
Go to the Inventory tab. There, you'll see three options:
If your product is a single product, select Track inventory for this product
If your product has variations, select Track inventory by options (from the 'Options' tab above)

---
To Update in Bulk
Solution 1
Using a CSV file, add the header "Track Inventory". In the column, enter one of the following phrases for each product:
"by product" for single products
"by option" for products with variations (you assign this value to the parent product, not children):

Solution 2
Go to the Products tab. There you need to choose "Bulk edit" and click "Confirm".

On the next page, you need to change "Track inventory" to "Product level" or "Variant level".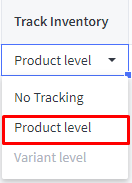 When it's done, click "Save" in the bottom right corner.
You find more details on BigCommerce Inventory Tracking here. If you are interested in our BigCommerce integration please check this post.