Walmart has recently introduced an Egregious Shipping Cost rule which automatically unpublished products with exceptionally high shipping costs (in most cases higher than the item cost). The items unpublished due to this rule will show the Egregious Shipping error on Walmart Seller Center and GeekSeller: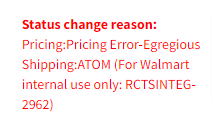 If you see this error on your product, please check your shipping template settings to ensure that the shipping costs you offer do not exceed your item's price. Please keep in mind that you will also see this error if your shipping price is unreasonably high, so you may need to include it in the item price (be careful not to raise it too much, though, as it may be unpublished due to the "reasonable price not satisfied" error in this case) or lower it significantly.
Unfortunately, Walmart does not provide any indication of what shipping cost is adequate in given circumstances, so it may require some trial and error before you will be able to set up the correct shipping and item price to avoid the error and make a profit.
Please keep in mind that if you fail to adhere to the Walmart pricing rules for a longer period of time, your account may be suspended. If you need help fixing this error or figuring out the correct item or shipping price, do not hesitate to contact our support team.