Seller Performance Standards
---
To review the full Walmart article please check this link: https://sellerhelp.walmart.com/s/guide?article=000007175&geo=US 
---
Here is a breakdown of SLA (Service Level Agreements) which is used by Walmart to measure the Seller Performance:
Service Level Agreements (SLAs), include the following:
90-Day Order Defect Rate: Less than 2%
On-time Shipment Rate: Greater than 99%
Valid Tracking Rate: Greater than 99%

---
Seller Scorecard
You can review your standing by viewing your Seller Scorecard under ANALYTICS -> Performace -> Seller Scorecard tab.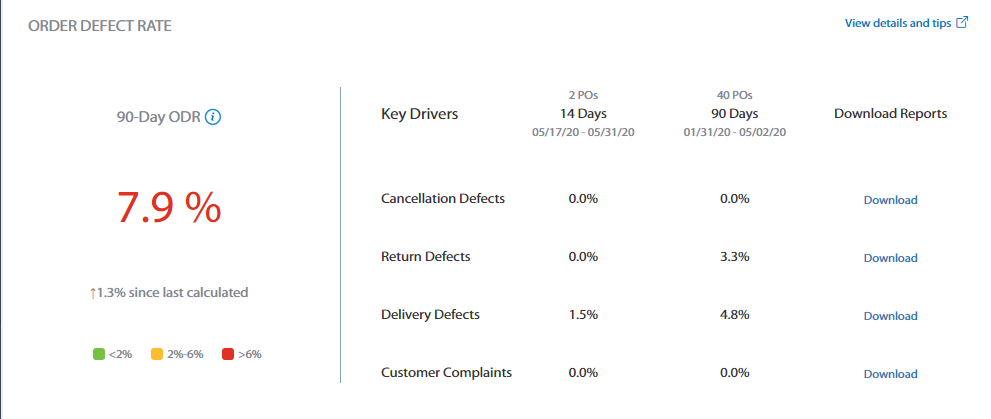 You can quickly check your overall ODR and On-Time Shipment Rate here with a breakdown of each key driver in the last 14 and 90 days period.
The large 90-Day ODR rate is calculated from 120 days ago to 30 days ago, so that orders still within the return window are not affecting your ODR.
This score is updated biweekly. If your ODR is yellow or red, you will receive a warning that you need to improve your performance within 30 days.
---
Suspended Accounts and Appeal Process
If your account is suspended due to high ODR (above 2% threshold), you will receive a warning via email explaining why. You can appeal the suspension by creating a case on your Walmart Seller Center select Partner Account/Profile > Appealing Seller Account Suspension and attach your Business Plan of Action with following information:
Identify the issues in your selling or business management practices that caused the violations.
Clearly address how proper changes were made to these practices.
Provide actionable steps to resolve them to prevent further violations in the future.
Disputes
The ODR caused by severe weather, natural disasters, fraud holds will be automatically removed from your account. However, if you would like to request the removal of certain orders from your ODR you need to submit a case (Partner Account/Profile > Seller Scorecard > My Order Defect Rate & Performance > Adjustment Request) and provide the required information:
The reason for the problem
Proof of your claim that you are not at fault (e.g., a case number regarding an API failure where it was validated that you were not at fault, etc.)
The date range in which orders were impacted (If applicable)
The affected order numbers
Please keep in mind that even if Walmart will verify and approve your claim the ODR rate will remain the same until it will improve over time.