Seller Performance Standards
---
To review the full Walmart article please check this link: https://sellerhelp.walmart.com/s/guide?article=000007175&geo=US 
---
Here is a breakdown of SLA (Service Level Agreements) which is used by Walmart to measure the Seller Performance:
Service Level Agreements (SLAs), include the following:
14-Day Order Cancellation Rate: Less than 2%
On-time Delivery Rate: Greater than 95% in a 14 day period
Valid Tracking Rate: Greater than 99% in a 14 day period
Return Rate: Less than 6% in a 90 day period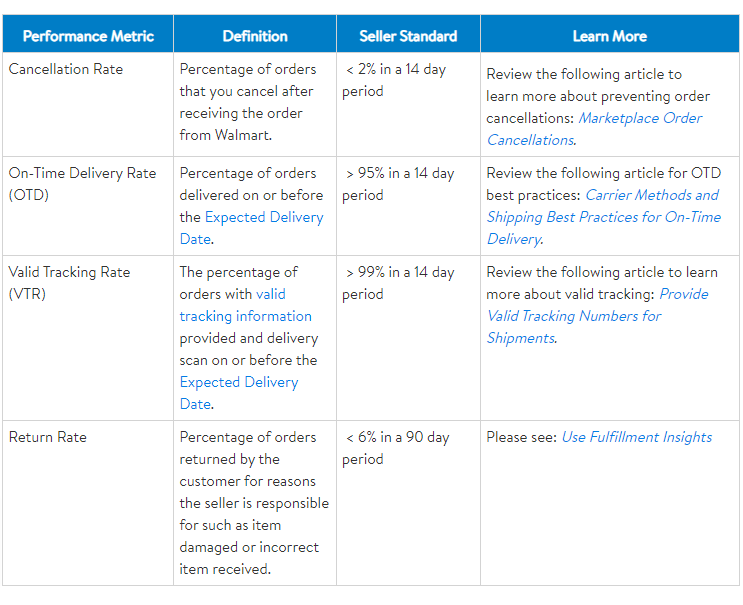 ---
Seller Performance
You can review your standing under the Analytics > Performace > Order & Fulfillment tab.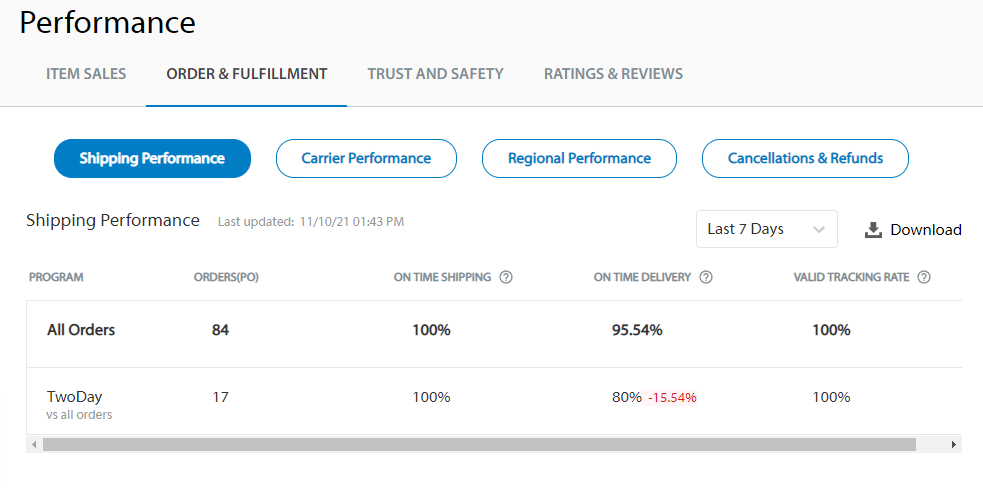 It is the seller's responsibility to review account performance and proactively take action to improve any performance metrics that are not meeting standards.
Failing to meet one or more of the performance standards may result in alerts, removal from the TwoDay program, and a suspension.
---
Suspended Accounts and Appeal Process
If your account is suspended you will receive a notice to the Business Management contact listed on your account. You can appeal the suspension by contacting Walmart with your Business Plan of Action. You can find instructions on how to appeal in this guide.
Disputes
The performance violations caused by severe weather, natural disasters, fraud holds will be automatically removed from your account. However, if you would like to request the adjustment of your Seller Performance you need to contact Walmart Support. Select Disputes category in your case provide the required information:
The reason for the problem
Proof of your claim that you are not at fault (e.g., a case number regarding an API failure where it was validated that you were not at fault, etc.)
The date range in which orders were impacted (If applicable)
The affected order numbers