There are various methods for creating shipping options within Walmart. Decide whether you would like to charge a fixed fee per order, a fee based on item weight, or a fee based on the number of items ordered. You can also mix these models to offer a different fee calculation for each shipping method.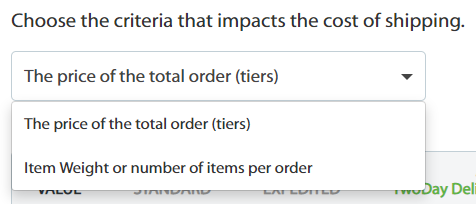 For the purpose of this guide, we will concentrate on the latter option – Item Weight or Number of Items per Order.
Let's suppose that on top of the free value shipping (3-7 days of transit) you would like to offer standard (2-5 days) and expedited (1-2 days) shipping method. For standard shipping, you would like to charge $2.99 per each unit ordered and for expedited $3.99 per unit plus $1.50 for shipping and handling.
Here is how the setup of both methods should look like:
Standard Shipping: 

Expedited shipping: 

This is how the shipping options will appear on Walmart Seller Center and on delivery options visible for a customer: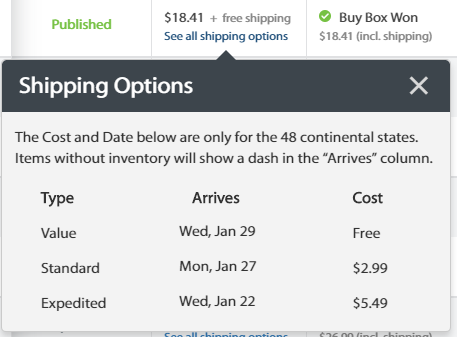 If a customer orders two or more units, this is how shipping fees will be calculated:

Please keep in mind that you can also set a fee based on the weight of items sold. In this case, you need to add shipping weight to all of your products published on Walmart.
It is also possible to add these fees only to selected items from your catalog. In this case, shipping overrides have to be applied. If you are interested in such setup, please contact GeekSeller Support for assistance.