This program allows Walmart US sellers to offer Free 2-Day shipping and add a 2-day shipping badge to the products. This means buyers can get free 2-day shipping no matter if Walmart or 3rd party seller offers a product.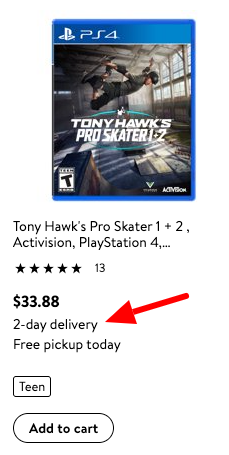 ---
How to get access to the Free 2-day shipping program?
There are two options to participate in the program.
If you ship yourself and meet Walmart eligibility criteria you can request access on your Walmart Seller Center. Go to General Settings > Shipping, then click Request Access button. Within 48 hours you will see a decision if you are approved in this section.
If you still need to work on Walmart requirements, you can offer a 3-day Delivery option instead. Unlike 2-Day, you do not need to request access to the program and there are no certain performance metrics that you need to meet.

You can use the Walmart WFS program or sign up with Deliverr to be automatically approved for free 2-day shipping program regardless of your past performance. We partner with Deliverr as well so you can connect with them through our system.
---
How to setup Free 2-day shipping program on Walmart Seller Center?
If you selected the first option you will need to set it up with Walmart shipping templates. Here you can find details on how to set up the templates and assign them to products.
If you have any questions regarding the templates please contact our support.
Update Lag Times
You need to update fulfillment lag time to "0" for your items included in the Free 2-Day Shipping program. Please follow the instructions in this guide to update it.
---
Fulfillments Insights For Performance Tracking
IMPORTANT: If your statistics (see eligibility criteria) drop below the requirements, Walmart may remove you from the program you will lose the free 2-day delivery tag. The appeal is possible but requires a detailed plan of action, reasons why statistics fell and it may take some time to get you back to the program.