What is the Free 2-Day Shipping Program?
This program allows Walmart US Marketplace sellers to offer Free 2-Day delivery and have their products being tagged with the 2-day shipping mark. This means buyers can get 2-day shipping no matter if a product is offered by Walmart itself or by a 3-rd party seller.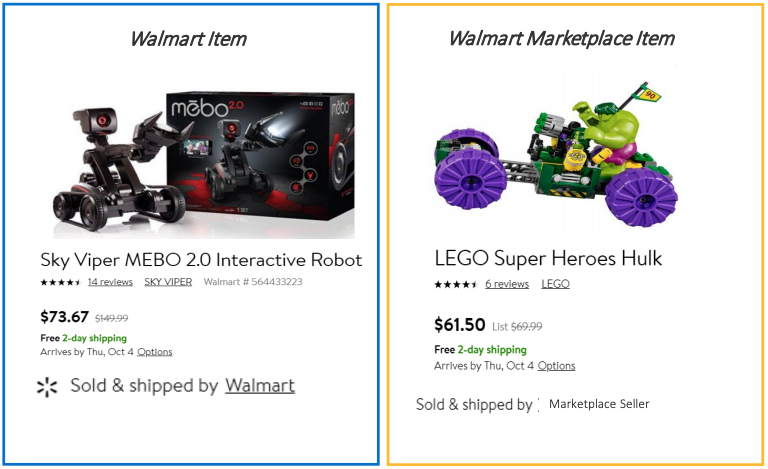 ---
Which sellers are available to offer 2-day shipping?
This is an invite-only program, which means the Free 2-Day Shipping program is only available to select sellers that meet high delivery performance standards. Sellers need to apply for the program, we provide the steps below.
To be considered for the program, sellers need to meet the following criteria (those statistics are taken from Walmart Scorecard section in the Seller Center):
On-Time Shipping: >95%
On-Time Delivery: >95%
Valid Tracking Rate: >95%
Cancellation Rate: <1.5%
Favorable returns policy
A seller must be on the Walmart Marketplace for more than 90 days
---
How to apply for the Free 2-day shipping program?
The opt-in request can be made via Walmart Seller Center section Shipping Settings. The Walmart Marketplace team will review the account & determine eligibility within 48 hours. Approval/Denial message will be displayed within Shipping Setting in Walmart Seller Center.
Step 1: Request Access
If you believe your statistics are good enough (check eligibility requirements above), go to Walmart Seller Center > General Settings > Shipping Settings, then click a button Request Access.  A decision if you were approved will be shown in this section within 48 hours.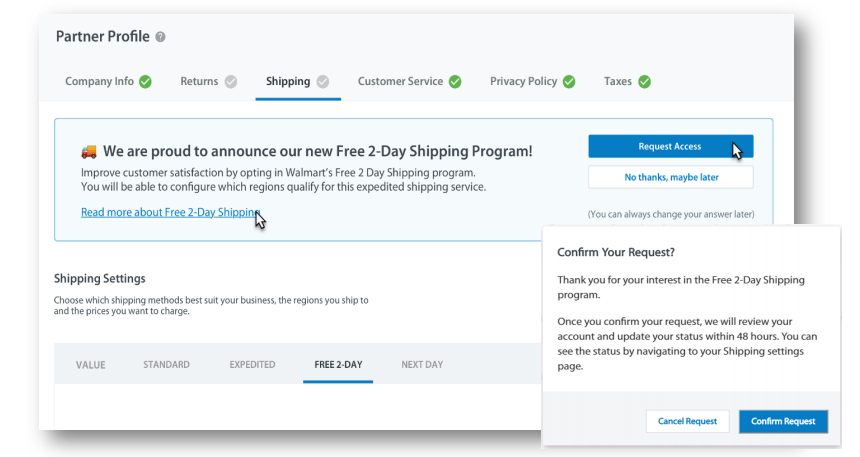 Step 2: Configure Settings
Select your assortment and configure regions/states for which you want to offer Free 2-Day shipping. You can select regions and states to which you are able to ship packages with the free 2-day shipping option. Go to Walmart Seller Center > General Settings > Shipping Settings to set up details.
Those are the global settings, which means they will apply to all products. However, you can also include and exclude products on by SKU level.
Selecting global eligibility by region: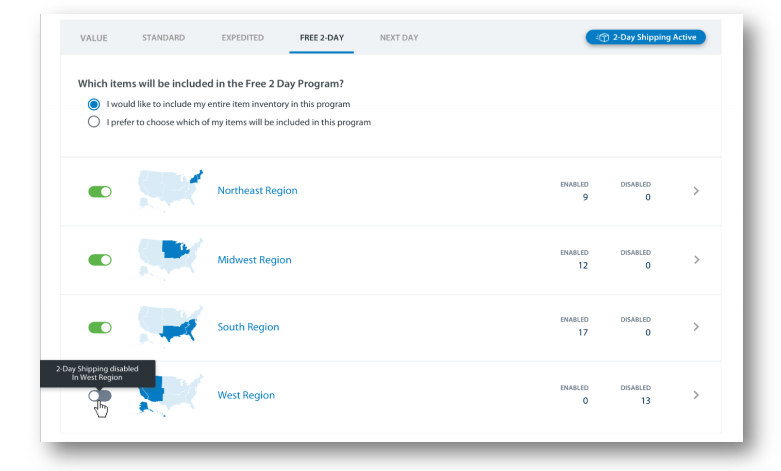 Your general settings can include/exclude eligibility per state: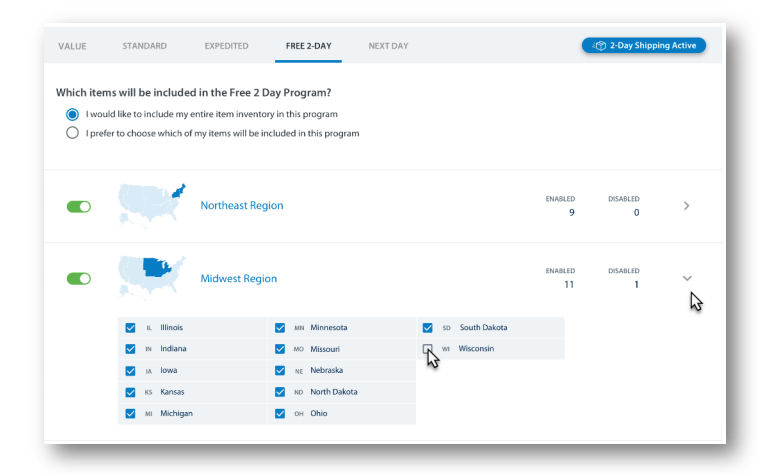 Step 3: Update Lag Times
You need to update fulfillment lag time to "0" for all your items included in the Free 2-Day Shipping program. The best way to do it is via GeekSeller pane product edit page or CSV file import – see details here. Please remember to resubmit your products after the lag time is updated.
---
Item level overrides
You can include or exclude products from the program on an SKU by SKU basis. At the moment sellers need to make this change by importing apropriete settings via XML file in Walmart Seller Center or via GeekSeller interface.
---
You use both global and per SKU overrides to control which products are in the program. The below table explains possible scenarios: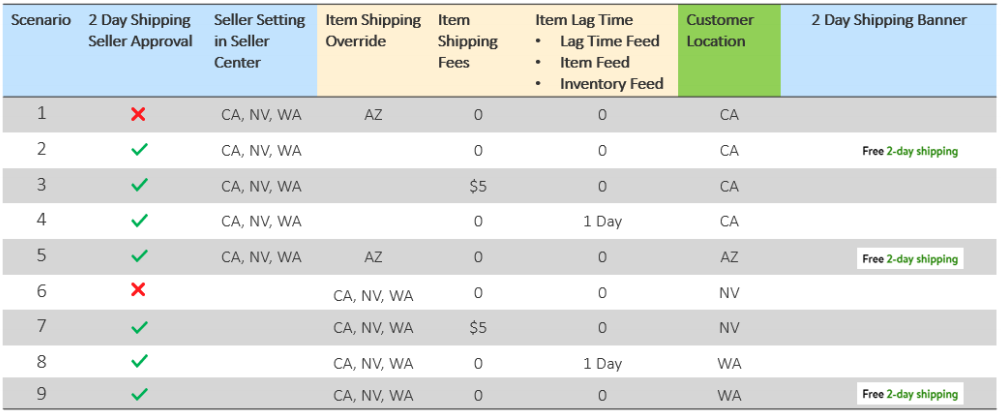 ---
Fulfillments Insights For Performance Tracking
If your statistics (see eligibility criteria in a section above) drop below the requirements, you may be removed from the program and lose the free 2-0day shipping tag on your products. This is why it is important to perform weekly reviews of your Fulfillments Insights. The appeal is possible but requires to provide a detailed plan of action, good reasons why statistics fell and it may take some time to get you back to the program.