What is the Free 2-Day Shipping Program?
This program allows Walmart US Marketplace sellers to offer Free 2-Day delivery and have their products being tagged with the 2-day shipping mark. This means buyers can get 2-day shipping no matter if a product is offered by Walmart itself or by a 3-rd party seller.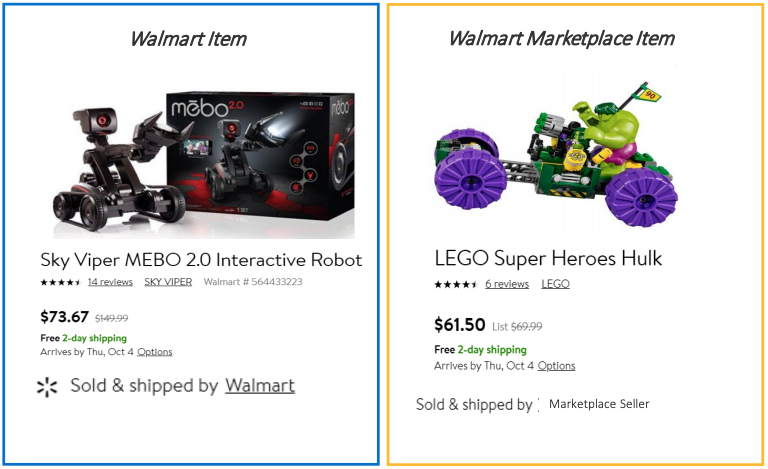 ---
How to get access to the Free 2-day shipping program?
There are two ways to participate in the program.
If you ship yourself and meet Walmart eligibility criteria (listed here) you can request access on your Walmart Seller Center > General Settings > Shipping Settings, then click Request Access button.  A decision if you were approved will be shown in this section within 48 hours.

You can sing up with Deliverr (https://deliverr.com/walmart/) to be automatically approved for free 2-day shipping program regardless of your past performance. In this case, Deliverr will setup the fast shipping tags for you. We partner with Deliverr as well and can help you integrate it with GeekSeller and connected marketplaces.
---
How to setup Free 2-day shipping program on Walmart Seller Center?
If you selected the first option and you were approved (You can check it on Walmart Seller Center > General Settings > Shipping Settings 48 hours after you requested it) you will need to set up your Free 2-day shipping settings. Here is how you can do that:
Step 1: Configure Settings
Select your assortment and configure regions/states for which you want to offer Free 2-Day shipping. You can select regions and states to which you are able to ship packages with the free 2-day shipping option. Go to Walmart Seller Center > General Settings > Shipping Settings to set up details.
Those are the global settings, which means they will apply to all products. However, you can also include and exclude selected SKUs only.
Selecting global eligibility by region: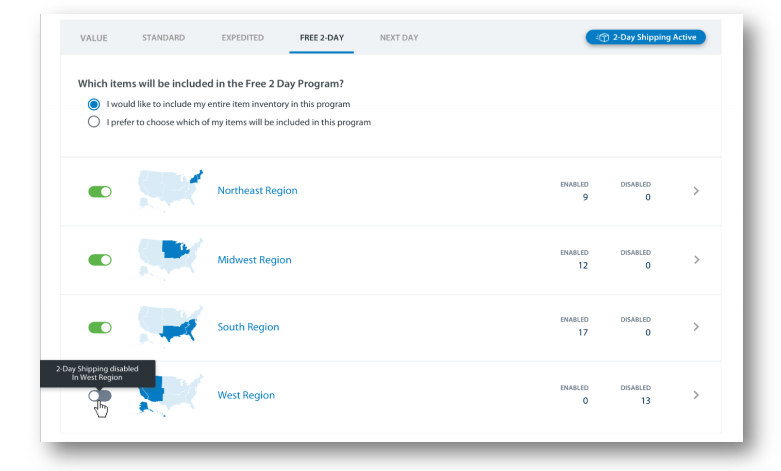 Your general settings can include/exclude eligibility per state: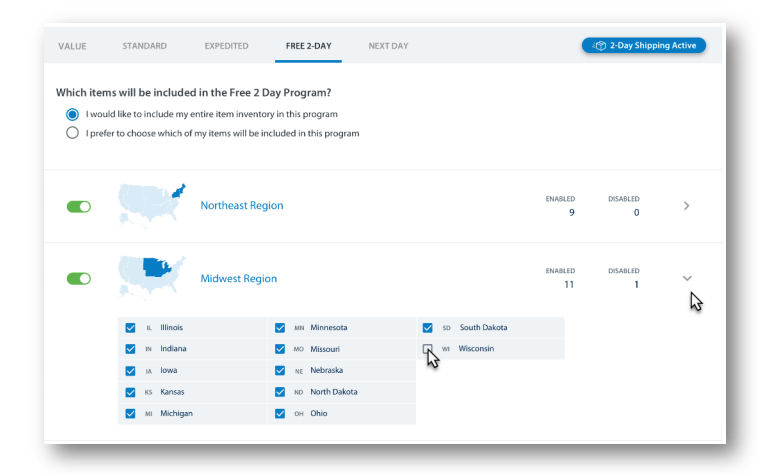 Step 2: Update Lag Times
You need to update fulfillment lag time to "0" for all your items included in the Free 2-Day Shipping program. The best way to do it is via the GeekSeller panel product edit page or CSV file import – see details here. Please remember to resubmit your products after the lag time is updated.
---
Item level overrides
You can include or exclude products from the program on an SKU by SKU basis on your GeekSeller Walmart panel: https://support.geekseller.com/knowledgebase/2-day-shipping-overrides/ Please contact GeekSeller Support if you need help with this setup.
---
Fulfillments Insights For Performance Tracking
IMPORTANT: If your statistics (see eligibility criteria in a section above) drop below the requirements, you may be removed from the program and lose the free 2-day shipping tag on your products. The appeal is possible but requires to provide a detailed plan of action, good reasons why statistics fell and it may take some time to get you back to the program.