To sell on Google Shopping via Google Shopping Actions, you need to set up the following:
Google Merchant Center
Accessible from merchants.google.com, this is the merchant center allows you to upload product data to Google. The merchant center doesn't list products without Shopping Actions.
Google Shopping Actions
This is a program that you need to apply for after setting up your Merchant Center. It enables you to make your products available via Google Voice Assistant, YouTube, and Google Shopping.
---
Table of contents
---
1. Set Up your Google Merchant Center and Google Shopping Actions
Create a Google Merchant account to gain access to the Google Merchant Center.
You apply for Google Shopping Actions from your Google Merchant Center:
Please note that if your Merchant Center was not created in the US or France, the Shopping Actions option won't appear. The merchant needs to create their Merchant Center in those two places and accept those terms of service to see the option.
---
2. Contact GeekSeller
Send us an email answering the following questions:
Do you work with a 3PL or do you pack and ship in-house? If you ship in-house, how do you generate labels?
Which shipping carriers do you use?
Are you planning to use GeekSeller's order management panel to generate and print shipping labels?
Do you have your product data uploaded to the Google Merchant Center? Do the SKUs match on other marketplaces?
Where do you want to enter quantity information?
Do you want to adjust quantities using the GeekSeller interface or CSV?
Would you like Google Shopping to share inventory levels with other marketplaces?
---
3. Invite GeekSeller to your Google Merchant Center
Open the Merchant Center
Click the settings button and select "Account access"

Add a user under the email address: GeekSellerHelp2@gmail.com
Under User access, select "Admin" and "Standard" to allow us to help with account set up and product creation

Send us your Merchant ID via email to Support@GeekSeller.com

GeekSeller team will need about 24 hours to set up for you the integration.
---
4. Prepare and Submit Products
Go to your GeekSeller Google panel and import data via spreadsheet or create products one by one.
Important! If you're switching to GeekSeller panel (which uses Google API) for item submission, make sure that you're not using any other data feeds anymore to submit product items. If you keep on submitting items on both mediums, unexpected results may occur (source).
---
5. Synchronize Quantities
Let our team know which way you want to manage quantities:
Use GeekSeller as a bridge to send quantities from one marketplace to another
Use GeekSeller as your central hub for quantity data through the Master Panel
---
6. Connect Shipping Carriers and Manage Orders
To use the Master Panel to generate labels, complete the following steps:
Connect EasyPost to access over 100 carriers and the best rates for USPS through Commercial Plus Pricing
(GeekSeller does not make commissions on referrals to EasyPost, we recommend this company based on their outstanding service and great pricing).
Connect a 3rd party systems (contact support for more info)
---
7. Set Up Shopping Actions
Log into your Merchant Center, select Shopping Actions from the left sidebar.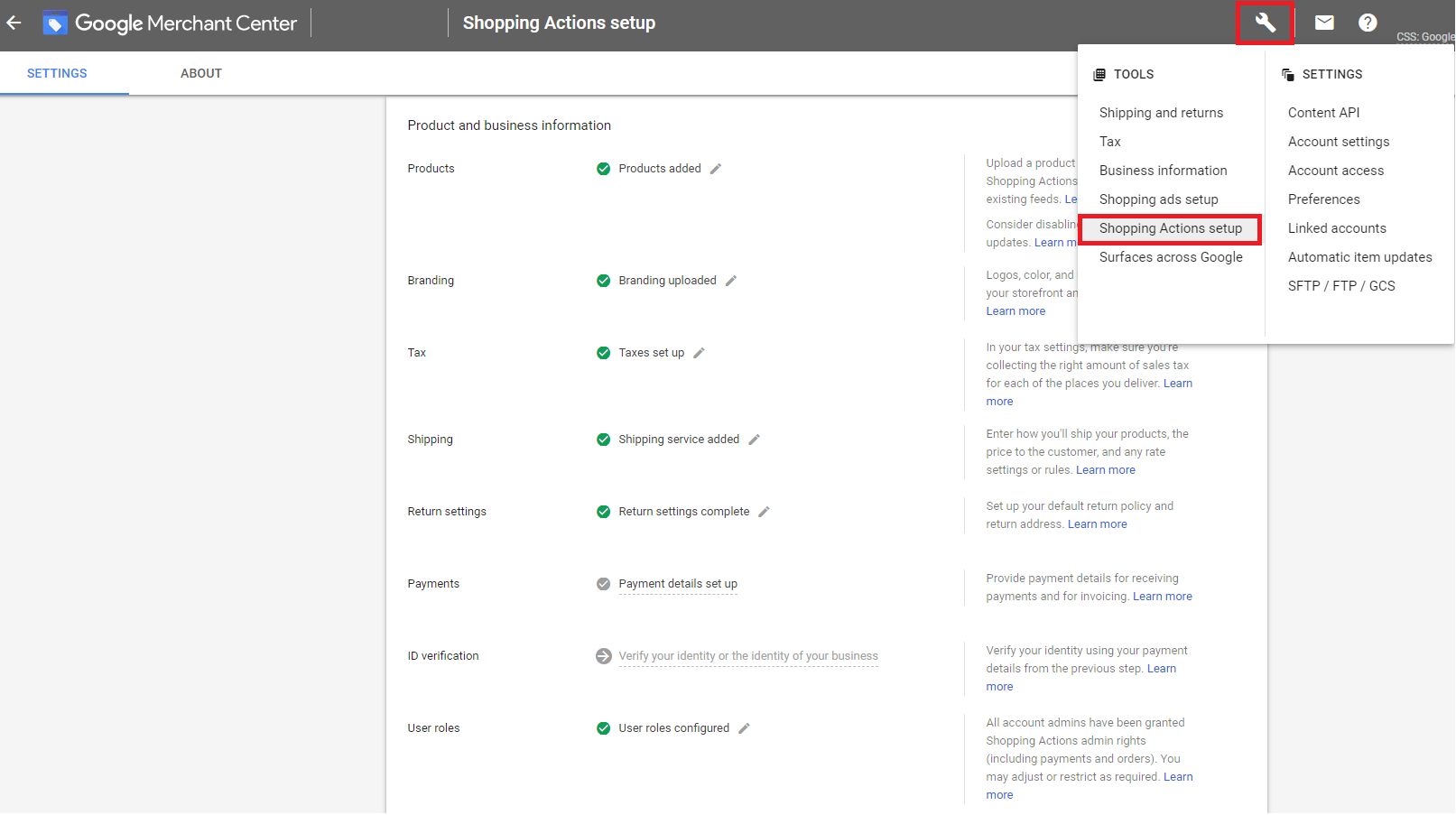 Products
Please see step four above for instructions on product creation.
Branding
Check out Google's Quickstart Guide – Branding.

A round logo is required (max. 5 MB, PNG or SVG, must be 768 x 768 px)
Favicons are optional but recommended by Google
Banners for Shopping Actions are optional but recommended by Google

Tax
You can set tax options for each state separately.
Google's Quickstart Guide – Taxes and Shipping
Shipping
You can set up multiple shipping options, each for a different scenario.
Google's Quickstart Guide – Taxes and Shipping
Return Settings
Set up your default return policy and return address.
Google's Quickstart Guide – Return address
Payments
Set up details for receiving payments and invoicing. Final verification may take up to 3 days.
Payment will not be issued until all steps are complete.
Google Quickstart Guide – Payments
Customer service contact
Provide an email address so that Google (not buyers) can contact you.
Marketing settings
Allow buyers to subscribe to marketing emails at checkout.
Provide a URL to your privacy policy for Google to screen against their standards and policies.

When everything on this page is set up, be sure to click "CONFIRM"
---
8. Review and Activate
Terms of service
Take some time to familiarize yourself with Google's terms.
Review
Double-check your storefront and make sure your products and graphics are displayed properly. Add a few items to the cart to review taxes and shipping charges.
Activate
Google will email you a few days after you request final validation to notify you that your store is ready to be published.
Log in to your Google Merchant Center, click on Shopping Actions and click "PUBLISH STOREFRONT."