Walmart is usually locking down listings and not allowing them to be updated after the initial submission. This is to prevent multiple sellers from overwriting existing data on a listing. If you notice that your product data is different on Walmart you can follow the steps below to fix it.
---
Step 1
Login to Seller.Walmart.com and select Contact Partner Support via the drop-down menu: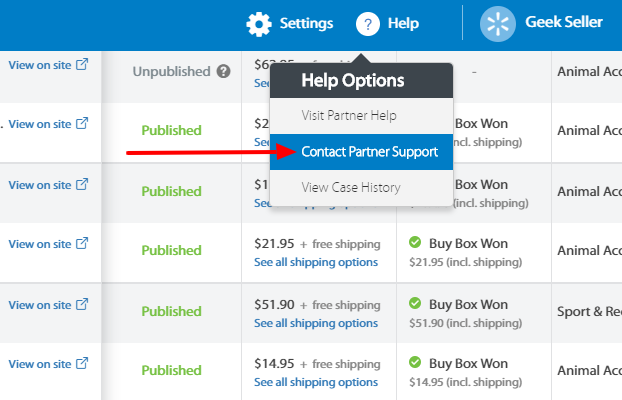 ---
Step 2
Pick the category and subcategory: Items/Inventory > Content > Incorrect details OR Changes not reflecting on-site: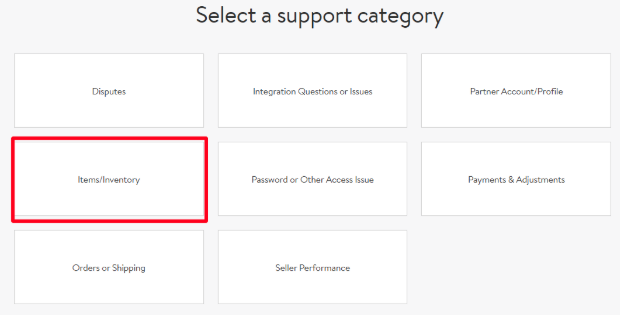 ---
Step 3
Use the following template for the message to Walmart:
Hello,
I am trying to update product data on my SKU(s): HEREYOURSKU(s). The product listing on Walmart.com has incorrect data: wrong titles, misleading description, wrong images.
I am selling those products as an official distributor. Link to the website where the correct data is located: MYWEBSITE OR MANUFACTURER WITH CORRECT DATA.
I also attached photos of the products, the packages show the correct data that should be used. This is the data I submit via feed: FEED ID FROM THE EXPORT STATUES TAB (see the screenshot below)
Thank you,
NAME
Important! You need to provide the Feed ID which was submitted with the correct data. The Feed ID can be found in the Export Statuses section on the GeekSeller Walmart panel.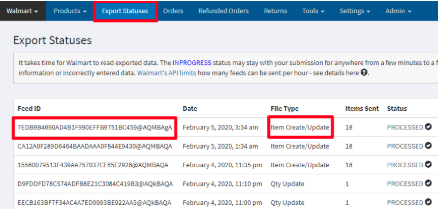 ---
Step 4
Walmart's support should contact you within a few days with either a resolution or to request more information.
If you continue to have issues with making the change (after providing the required information to Walmart) you can send us data listed below, and GeekSeller will submit a case on your behalf.
Did you submit a request on your own to Walmart? If so, please provide your Walmart support ticket ID and explain what Walmart support responded.
Attach a spreadsheet with SKUs to update and a column explaining what data should be updated.
Provide a link to your website or the manufacturer's website where the correct data can be found as well as the UPC code.
Are you a manufacturer or distributor of the products?
Attach files with photos– which include the UPC code– or documents showing/proving that data you want to update is correct. Usually, you need to upload a photo of the products taken by you.