GeekSeller consists of a Master Panel and various subpanels for the individual marketplace connections. For example, if you sell on Walmart only, you can use the GeekSeller Walmart Panel; But if you sell on multiple marketplaces, and you want to see all your orders in one place, you will use the GeekSeller Master Panel, which combines all connected marketplaces into one panel.

If you are not using the Master Panel, and you would like to, please contact our support at support@geekseller.com.
Featured Functionalities
---
100+ shipping carriers
You can connect multiple UPS and FedEx accounts to your GeekSeller panel, and thanks to our partnership with EasyPost, you can connect more than 100+ carriers, including Canada Post and USPS with Commercial Plus Pricing– offering the lowest available rates.
---
Labels creation
Browse rates from available carriers, and see values adjust dynamically as you change the parameters.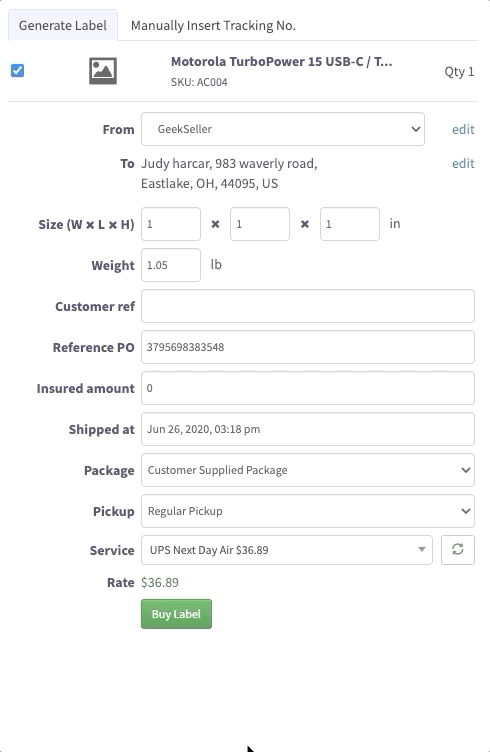 ---
Track Shipments
Once you create a label for your shipments, you can continue to use GeekSeller to track the shipments in the Shipments section. Go to Master Panel > Orders > Shipments.
The most prominent features of this section:
Check which shipments are running late.
See a history of your tracking numbers.
Detect early delivery issues.
Export data to a file to analyze the average delivery time.
Set up email alerts to get notified about potential delivery issues.

---
Multiple shipments per order
If your orders need more than one shipment, you can easily generate separate labels per line item. Notice, if you use custom packaging, we automatically calculate your package size.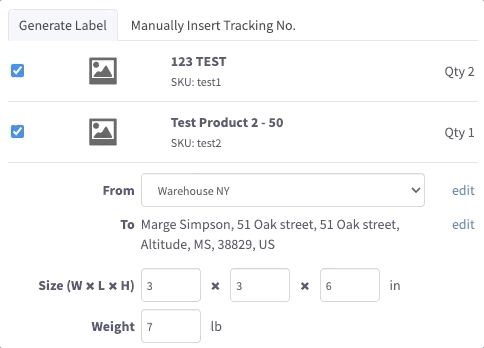 ---
Automation and bulk actions
We help you automate the process of creating labels. Based on order data we can map shipping services and automatically select the proper shipping options, so all you need to do is just click Buy Label. You can also go a step further and use our Bulk Action functionality to select orders and generate labels in a batch.
---
Supporting non-standard marketplaces (DSV, International)
GeekSeller also supports non-standard platforms. You can use GeekSeller for managing DSV orders, which require additional labels to be printed (called ASN) and adding Walmart FedEx and UPS accounts to your account so that Walmart covers the shipping costs. GeekSeller also supports international shipping and the option to add Customs details to labels.

---
Customizable view, tags, and notes
The order list view is easily customizable, you can specify what columns you want to show and in which order.

Add notes to your orders:

You can easily tag your orders, either automatically with Automation Rules, or manually:

---
Label customization
You can customize your shipping labels by going to Master Panel > Setting > LabelSettings. We are adding new options on an ongoing basis, currently, you can automatically fill out Customer Reference Number 1 with your Order SKUs and Qty.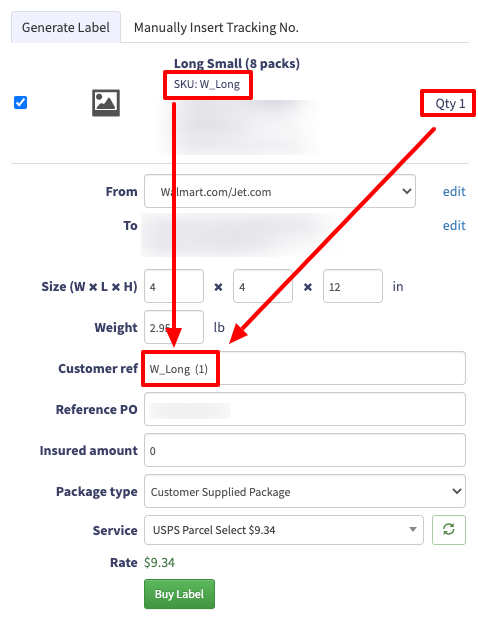 ---
Enterprise features
We also work with sellers who require customized features. Among the customization options that we offer; data exchange with 3rd party systems via API, EDI, or sFTP, custom email notifications, customization of package slips, and templates for invoices. More complex features may require a one-time payment or additional ongoing charges. Please contact us for details.