Fulfillment nodes

---
Jet allows sellers to specify different locations where a product may be housed. Each location has customizable shipping settings so that Jet can determine which location (fulfillment node) it should be shipped from in order to provide the fastest and most affordable shipping to the buyer. Jet calls these locations fulfillment nodes. When a new order is placed, Jet assigns the node from which it should be shipped.
Sellers can create multiple fulfillment nodes at Partner.Jet.com > Fulfillment, these nodes are also visible in the GeekSeller Jet panel. The example below shows an account with four fulfillment nodes. This particular product is located only in two warehouses.

---
Walmart does not allow multiple fulfillment nodes or specifying where a product is located. Walmart only asks for a single product quantity. On Walmart the same product will look like this:

When an order is placed, GeekSeller adjusts quantity on the nodes. When a product has quantity of 0, the product is hidden from buyers on the marketplace.
---
Quantity synchronization

---
There are multiple methods to update quantity of products. In the most basic form, sellers can update quantity manually via GeekSeller interface. However, this does not work for larger merchants selling on multiple marketplaces with dynamic inventory. They need this process to be more automated.
---
Amazon
Some sellers use Amazon and want to synchronize their inventory between Amazon and Jet. GeekSeller can connect to Amazon directly via Amazon API to seller's accounts, get quantity information, and insert it into GeekSeller, then transfer it to Jet.com.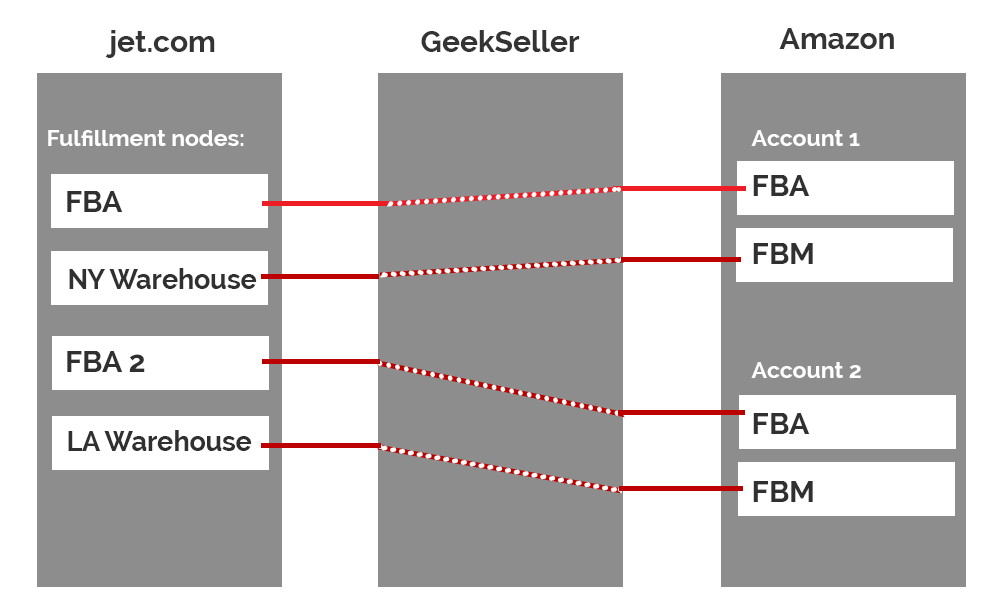 ---
Other
In a similar fashion, GeekSeller can also synchronize quantities between our database and a seller's Shopify or BigCommerce stores.
---
Walmart 
Walmart does not have multiple fulfillment nodes. GeekSeller is able to combine few nodes and send their data to Walmart as one number. This allows merchants to list products on Jet and Walmart and keep their qty synchronized across all platforms.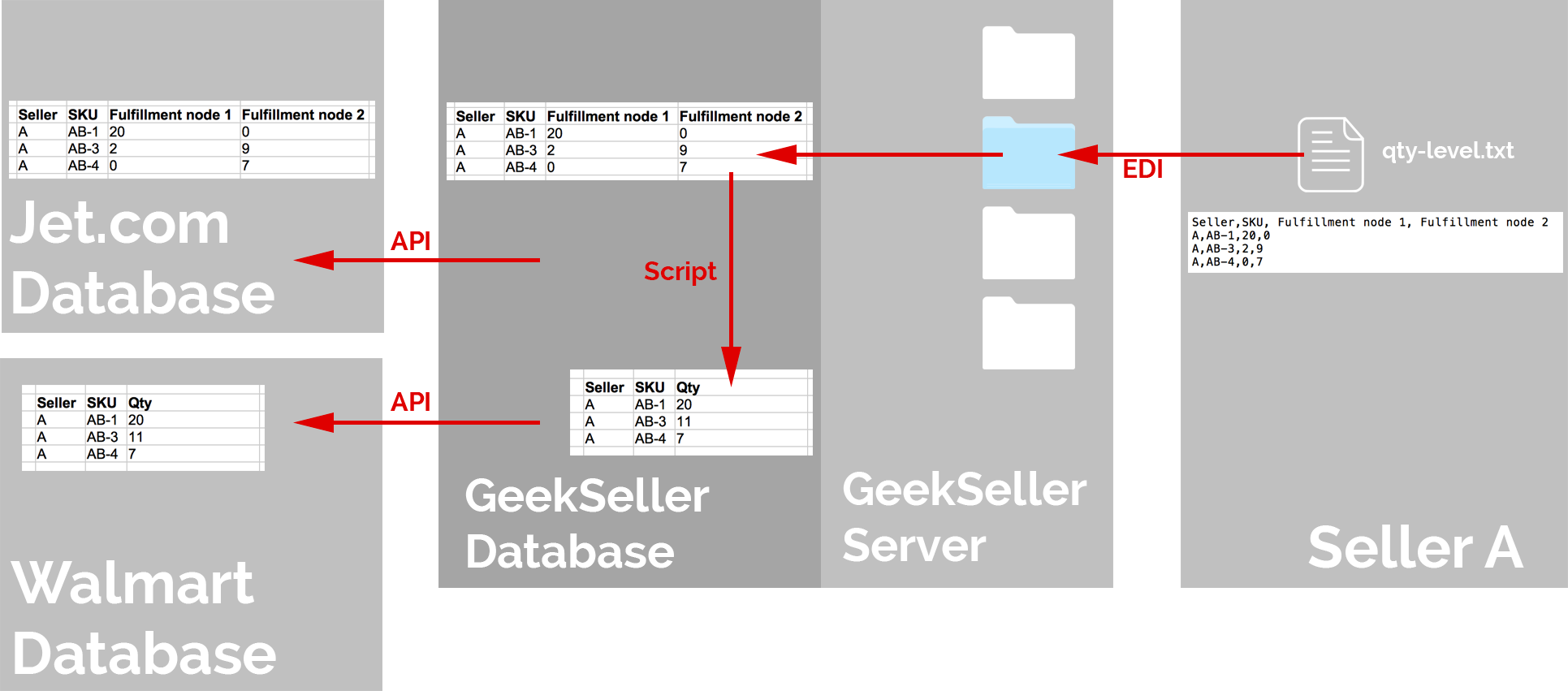 GeekSeller can read data with any frequency if needed, but usually we read quantity every two hours. Two hours is also a limit of how often can Amazon provide via API information about quantity of FBM products. Then we also submit new data about quantity to Jet, on average we do that every two hours.
---
Fulfilling orders

---
When a new order is placed on Jet and Walmart, both of those systems keep the information about the order in their database. GeekSeller connects every 10 minutes to Jet and Walmart and checks for new orders. When there is a new order, when it enters the READY status. GeekSeller brings this order over and checks to see if the order can be fulfilled – if there is enough inventory, GeekSeller accepts the order, changing its state to ACKNOWLEDGED.
Jet orders flow:
| | |
| --- | --- |
| Purchase | Buyer places an order of Jet.com |
|  ▼ | |
|  Order status: CREATED |  Jet performs fraud check |
|  ▼  | |
| Order status: READY  | Jet waits for GeekSeller to either acknowledge the order or cancel it. The decision is done based on the quantity available. |
|   ▼  | |
| Order status: ACKNOWLEDGED   |  This means GeekSeller has accepted an order and it should be fulfilled by the seller. A buyer can cancel an order within 45min after the order is acknowledged, GeekSeller recommends to do not fulfill it during that period. Acknowledged orders are also those which GeekSeller sends for fulfillment to 3rd party systems such as ShipStation, ShipWorks etc. |
| ▼ | |
| Order status: COMPLETE  | When a seller provides tracking a number for the order it is marked as complete: shipped, but it can be also complete canceled if a seller decides to cancel it. Canceling an order in this stage has a negative impact of sellers account's profile. |
| ▼ | |
| Refund/Return  |  An order can be refunded or returned. |
---
If a merchant does not have enough inventory, GeekSeller cancels the order. This does not happen often, because when a merchant has 0 inventory for a product, GeekSeller sends this data to Jet, so that Jet will see that this product is not available. However, sometimes due to delays in transmitting data between systems, Jet may still have in its database that a seller has a given product, so it sends an order to be fulfilled. GeekSeller, having the most updated data about auantities, will cancel it. It is okay for the system to do that, this is how it works, Jet just requires GeekSeller to check for new orders and either acknowledge them or deny within 15 minutes.
After the order is acknowledged, a seller receives an email notification, see a sample email below: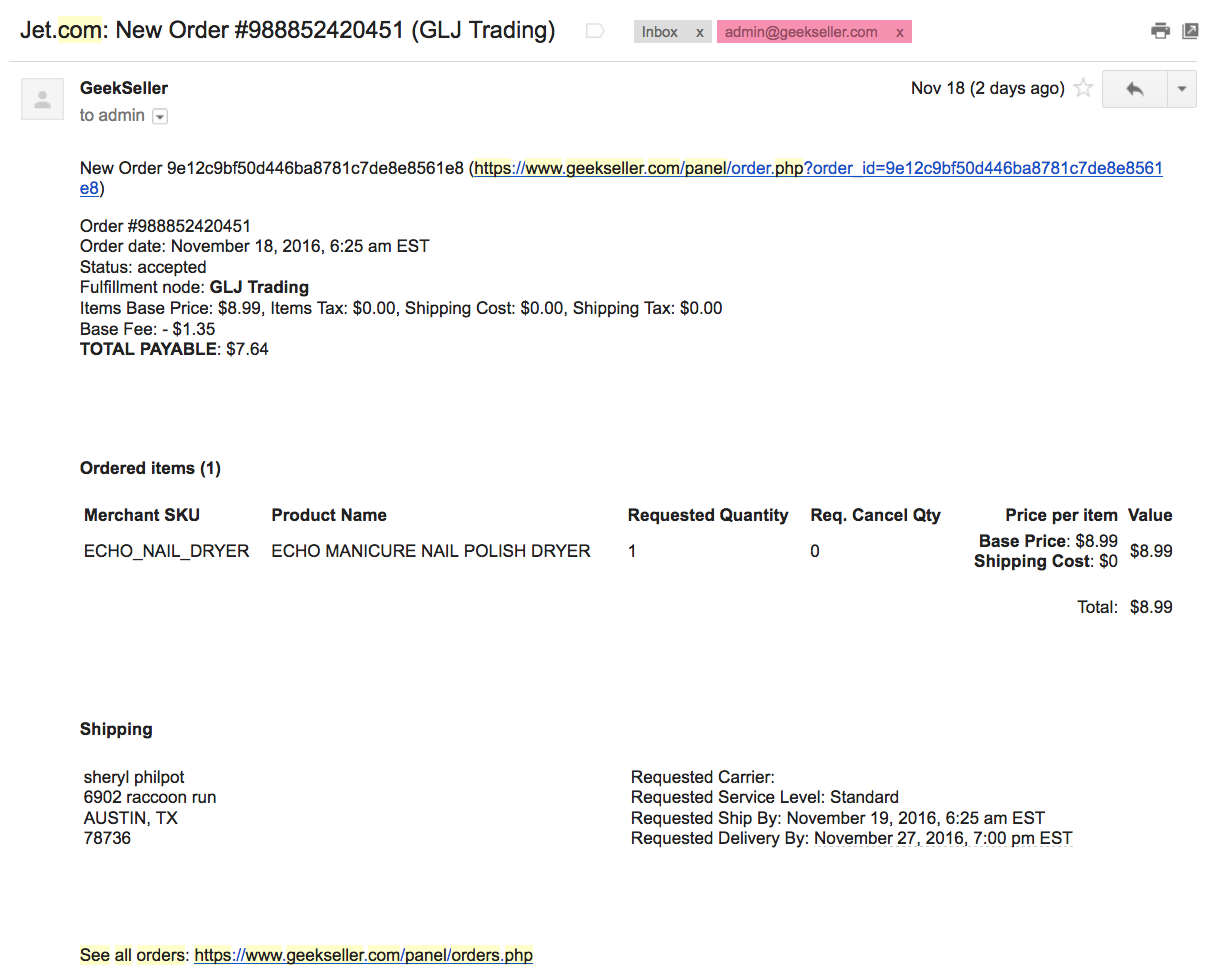 At this point, a seller needs to generate a label for the shipment. To do this, go to the ORDERS section in GeekSeller, provide a tracking number for an order and click SHIP. Both Jet and Walmart require that orders be shipped within 24 hours, unless a seller has added an extended lag time. See additional details on these support pages how to complete Jet orders, and how to complete Walmart orders.
If a seller has a high volume of orders, they can make this process easier by exporting orders to a CSV or XLS file from the ORDERS section, then add tracking numbers to the file, and import the file with tracking numbers back to the system.
However, for merchants with a high volume of products more automation may be needed.
Amazon FBA
GeekSeller has an extension allowing sellers to fulfill Jet orders with FBA. If an order placed on Jet is for a product located on a seller's FBA account, we submit the order to FBA, then FBA fulfills this order and sends tracking data to GeekSeller. GeekSeller then sends the tracking information to Jet.  Please note that Walmart does not allow FBA fulfillment because the boxes feature the Amazon logo; Jet is fine with that, Walmart is not.
When an order is placed, the subject line of the notification email will indicate which node the order is for. If it is for FBA and the automatic setting is active on the account, it's understood that it will be fulfilled automatically and no action is required of the seller. If the subject line indicates that an order has been placed for a product located in their warehouse (or FBM), they know they need to ship it manually.
This is important to note that for FBM orders, sellers need to manually adjust the quantity on Amazon. We have an option for GeekSeller making adjustments automatically, but it is a tricky option, which is not good for most merchants. See this video for more detail.  For FBA no action is needed, when GeekSeller places an order on Amazon to ship a product via FBA, Amazon automatically adjusts quantiteis on their end.
Quantities on FBM and FBA
Products marked as FBM are products that sellers send manually. Amazon does not care where they are sent from. Products marked as FBA are stored in Amazon's warehouses and Amazon ships them to buyers. This dictates how sellers adjust quantities for those two types of products. Sellers can login to Amazon and adjust the quantities on FBM products at any time, but to change FBA quantities, a seller must send more inventory to Amazon, and Amazon will adjust it. This is also why GeekSeller does not need to change manually qty of FBA products, we only read information about qty of FBA products. When an order is placed on Amazon for FBA product, Amazon is shipping it and reducing qty count, then when GeekSeller reads it again we see a proper decreased number. This is different for FBM. When somebody buys FBM product on JET, GeekSeller just sends information about that to a seller, and a seller must manually ship it from their warehouse and manually reduce a count on Amazon panel.
---
Quantity Updates Limitations
GeekSeller cannot update qty FBM qty on Amazon easily, because Amazon API allows to only to overwrite qty information, we cannot request Amazon to reduce qty by 1 for FBM product. This is why as default we ask sellers to manually adjust qty for their FBM products on Amazon when they sell something on JET.
GeekSeller can control FBM qty and reduce automatically, but this requires GeekSeller to have full control over the Amazon inventory. Please see the below two options for FBM qty updates that GeekSeller offers:
Option One
GeekSeller reads FBM Qty information from Amazon, but does not change them on Amazon. So, every time you sell a product on JET, you need to manually adjust numbers on your Amazon account.

Option Two
If you choose this option, GeekSeller will become the central hub for your quantity information. When orders come in from Jet, GeekSeller automatically adjusts and then sends the updated information to Amazon. Likewise, when a sale is made on Amazon, GeekSeller will automatically see this and adjust the quantity on Jet. When you need to update your FBM inventory, you'll do this in GeekSeller and the information will be sent to Amazon and Jet. Your FBA quantity will still be controlled by Amazon, but will also automatically update in GeekSeller and then Jet when adjustments are made.
*When choosing this option 2, please note that any FBM quantity adjustments made in Amazon will be overwritten by data coming over from GeekSeller.

ShipStation
This is the second most popular option for merchants to handle shipping. ShipStation is a software where merchants can easily generate labels, this is done thanks to SHipStation being connected to UPS, USPS, FedEx etc. GeekSeller sends order information to a seller's ShipStation account, a seller generates a label there, prints it and sends a package, ShipStation sends to GeekSeller a tracking number and GeekSeller sends this number to Jet. In this case, a seller does not need to login to GeekSeller, shipping is handled in ShipStation.
The most common settings is merchants creating two fulfillment nodes, one for FBM and one for FBA. They use GeekSellers's extension to do the qty synchronization between Amazon FBM and FBA and GeekSeller then JET. Then, they use the extension to fulfill automatically orders which some to FBM node and they request sending FBM orders to be submitted to ShipStation, so a seller can generate a label there and ship.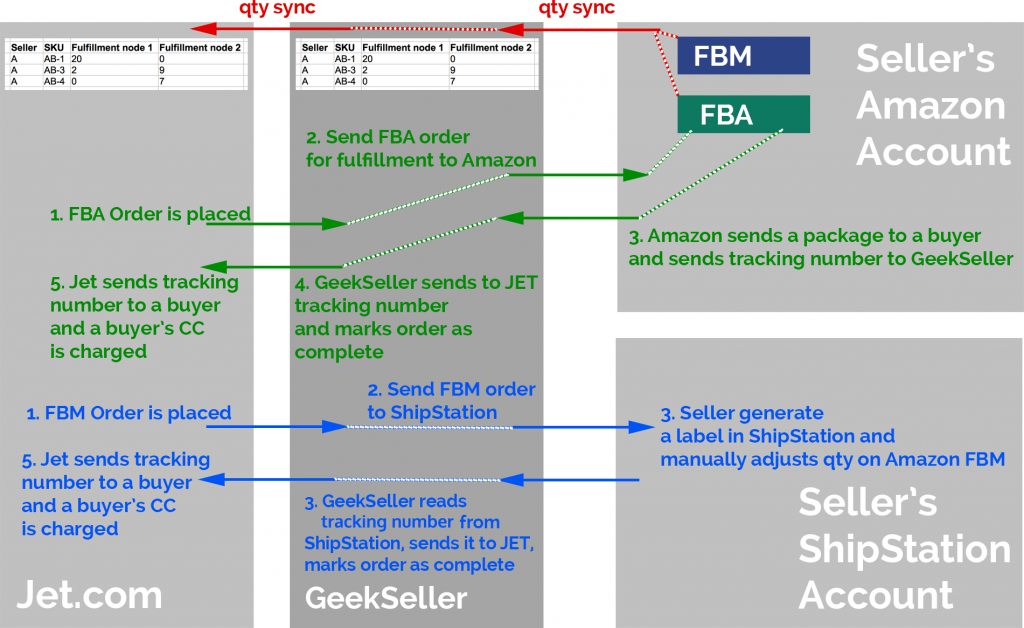 FTP – CSV/TXT File Transfer
Similar to qty synchronization, GeekSeller also allows merchants to exchange data about orders. A seller can have a folder on GeekSeller's server where data about new orders in a file is stored. Seller's system can read this information, generate labels, and then put on GeekSeller server a file with tracking number information. GeekSeller will then read this data and submit to Jet. In simple terms – GeekSeller can communicate with 3rd party seller's systems by exchanging files containing data about orders. GeekSeller sends a file with information where to ship and what to Ship, 3rd party system inserts on our GeekSeller's server a file with the order number that was shipped and tracking number for the order.
Shopify
GeekSeller allows also to send orders to Shopify where a user can mark them as shipped, this work on the same principle as ShipStation, data about an order is sent to Shopify and Shopify sends back to GeekSeller tracking numbers after it is available.
ShipWorks
One popular option for which GeekSeller has an extension for is ShipWorks which is similar to ShipStation. However, ShipWorks is a software users install on a computer, ShipStation is its kind of equivalents but online. ShipWorks requires GeekSeller to set it up for a customer.
For Walmart, it all works the same way. The only difference is that orders cannot go to FBA, but to some other place (ShipWorks, ShipStation, Shopify,…).
Walmart orders flow (see also Walmart API doc)
| | |
| --- | --- |
| Purchase | Buyer places an order of Walmart.com |
|  ▼ | |
|  Order status: CREATED | Walmart waits for GeekSeller to either acknowledge fulfillment of the order or canceling it. The decision is done based on the qty available. |
|   ▼  | |
| Order status: ACKNOWLEDGED   |  GeekSeller accepted an order and it should be fulfilled by a seller. Acknowledged orders are also those which GeekSeller sends for fulfillment to 3rd party systems such as ShipStation, ShipWorks etc. |
| ▼ | |
| Order status: COMPLETE  | If a seller provides tracking number for the order it is marked as complete: shipped, but it can be also complete canceled if a seller decides to cancel it. Canceling an order in this stage has a negative impact of sellers account's profile on JET. |
| ▼ | |
| Refund/Return  |  An order can be refunded or returned. |