Updated on: Sep 8, 2020
---
What is the GeekSeller Master Panel?
GeekSeller consists of independent panels built to connect to individual marketplaces. This means when a seller sells on Walmart or eBay, during their regular workflow they log in to two separate GeekSeller panels, one for Walmart and one for eBay. The Master Panel has been built to allow sellers to work with multiple marketplaces within a single panel.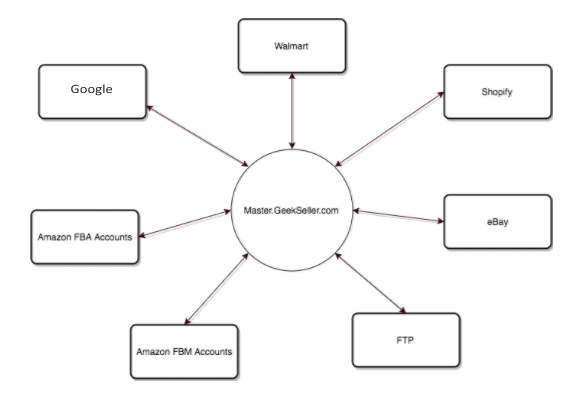 ---
Multichannel Quantity Synchronization
The Master Panel allows sellers to control their quantities from a single location. The panel manages orders and inventory levels, adjusting numbers across connected marketplaces when quantity is updated by a seller and when orders are placed. To learn more about multichannel quantity synchronization and how it can be activated, please click here.
---
Order Management
For an in-depth guide on multichannel orders management via the GeekSeller Master Panel, please review this guide.
---
Order Statuses
Here are the statuses of orders assigned on the Master Panel for all marketplaces.
Open – You need to provide a tracking number and submit it to the marketplace
Shipped – An order has been shipped and accepted by the marketplace
Error – There was a problem with your tracking number. Review the order details and insert the correct tracking number. If you still see the error contact GeekSeller Support.
Sent – The tracking has been entered into GeekSeller, but it has not been submitted to the marketplace yet. This status lasts 15 minutes, after which a tracking number is sent to the marketplace
In progress – The tracking number has been sent to the marketplace, but GeekSeller is still waiting for the marketplace to return an update. The order is not complete at this point, as the marketplace may still return an error.
Canceled – The order was canceled
---
Panel limitations:
Cancellations, refunds and returns must still be done on the individual GeekSeller marketplace panels
The ability to import orders from a file is not available yet (coming soon)